Out of the blue, less than 24 hours before nominations closed on 9th April, I received a call from UKIP London Region chairman asking me if I would be a candidate for the party in the General Election. He wanted me to stand in the Brent North constituency where the intended candidate apparently had gone AWOL.
Immediately I consented. Then, working with local activists, we managed to submit the required papers, signatures and deposit with just two hours to spare.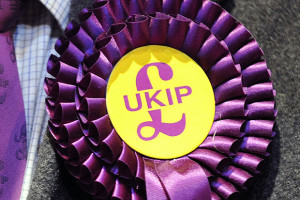 It was an unexpected and personally significant turn of events, so I thought I should email an explanation about my UKIP journey to people close to me. This, then, is what I wrote to them back on 11th April; the UKIP hierarchy requested that I shouldn't publish it on my blog until today when the General Election campaign is over:
Dear family, friends and colleagues,
In October I joined UKIP, which surprised many, horrified some and delighted others.
Further, over the past month I have been campaigning at weekends for UKIP's excellent candidate in the party's most winnable London seat, Dagenham & Rainham. Then this week UKIP suddenly asked me to stand as their paper (that is, nominal or non-campaigning) candidate in the unwinnable Brent North constituency – which I readily accepted.
When I lost my seat on Newham Council in 2010 after eight satisfying years as Christian Peoples Alliance councillor, I decided that my period of electoral politics was over. I'd had my time and I'd done my bit. So I am, perhaps, as surprised as anyone to find myself back in the fray ahead of the general election on 7 May, this time on behalf of a different party.
I thought I'd try to explain why to those who know me and may be puzzled by my recent political conversion to UKIP. If however you are simply not interested or find it boring, please be free to ignore and delete this email.
When I became a Christian in my late 20s, my worldview changed dramatically. While there's nothing intrinsically wrong with the corporate success, high income and jet-set lifestyle that I enjoyed then, I realised immediately that the Christian God rejects egotism, arrogance, selfishness and untruth: Christ showed us that His compassion is for the weak, the voiceless, the marginalised, the deprived, the disabled and the despised.
As a result and following my faith, I left the prosperity of leafy Highgate in north London and moved to inner-city Canning Town in London's east end, then the most deprived neighbourhood in the country according to the London Research Council. There I founded and became live-in warden of an after-care home for young offenders following their release from prison, and I ended up running a local church and community centre for the disadvantaged docklands population.
My heart was primarily with the outsider and the underdog, so when in 2001 and without consultation Newham Council highhandedly and Mugabe-like announced a brutal housing clearance scheme across Canning Town ("social cleansing" the appalled locals termed it) I moved into action. I door-knocked, leafletted and held mass meetings. I was then elected onto Newham Council as the sole Opposition member facing 59 Labour councillors and a Labour executive Mayor. I was the first non-Labour councillor in Canning Town for nearly a century and this small local earthquake helped kick-start my short political career…
The union of one man and one woman in marriage, faithful to each another "for the procreation of children" and "till death us do part", is an almost uniquely Christian ordinance. Like Christianity itself, this monogamous ideal has for more than a millennium so influenced our society, culture and language that we hardly notice it; for instance it is a bit of a shaker to consider that if I had been born in, say, traditionalist Africa or Muslim Middle East, my beloved Sally could be merely the first of my three or four wives without anyone batting an eyelid or me breaking the law.
The social benefits of Christian-style faithful marriage have been so great, especially for the nurture and socialisation of the nation's children, that I put the promotion of the marriage-based family via tax breaks and other incentives at the top of my agenda. For instance when I ran for Mayor of London against Boris Johnson and Ken Livingstone in 2008, my prime election pledge was to "Promote marriage and stable family as a long-term solution to youth crime, educational underachievement and child poverty".
I was stunned therefore when in 2011, without prior notice or indeed, initially, the support of gay campaigning groups like Stonewall, David Cameron commenced his crusade for same-sex marriage and, consequently, the debasing and degrading of traditional marriage. Under the government's gay marriage legislation, loyalty and faithfulness were negated as a key defining characteristic of marriage ("Go on, be modern, play the field, everyone does") and, necessarily, so was procreation and the nurture of the marital union's offspring.
Yet same-sex marriage was not in any of the main parties' manifestos at the previous general election; there was no Green or White Paper consultation over the issue; debate in Parliament was severely restricted and one-sided; opponents were excoriated as stone-age dinosaurs or homophobes – in this way the whole metropolitan liberal political bubble (led unitedly and enthusiastically by David Cameron, Ed Miliband, Nick Clegg and Boris Johnson) highhandedly rammed through the destruction of this foundational building-block of a healthy society. They betrayed our children and it's the coming generations who will suffer the consequences.
For me it was the last straw. It was shades of highhanded Newham Council again, but at the national level. Until this betrayal I still had – just – some residual respect for our political elite and our existing party system. But no more. Their cavalier and flagrant abuse of the political process over this vital social issue was, for me, jaw-dropping. They shoved it down our throats, and it made me sick.
But not UKIP.
UKIP is an unsophisticated grass-roots party of mainly ordinary people, warts and all. The leaders make mistakes but deal swiftly with the jesters and worse that any new party attracts.
The leadership has common sense and very real courage: alone they stood against gay marriage; alone they want the UK to exit the corrupt and undemocratic EU; alone they campaign to end to the madness of uncontrolled mass immigration; alone they plan to protect childhood innocence by banning sex education from primary school pre-pubescents.
I don't agree with some of UKIP's stuff, but as despised outsiders and in spite of virulent opposition the party has single-handedly shifted the political agenda on both the EU and mass immigration. The party is currently doing the same over health tourism and wages depressed by cheap labour. Yet encouragingly a significant percentage of supporters come from ethnic minorities who too, of course, are outsiders.
So I've joined UKIP and am campaigning and nominally standing for the party on 7 May. I want our society to regain its identity and confidence, to come out of the cosy but crumbling rich men's club that is the EU and to engage independently with the wider world (including Europe) so that we stand or fall by our wits.
I don't expect all my friends to agree with me (that's not what friends are for!) or to support UKIP. But it is important to me that you understand why I am actively campaigning for them.
If you want to know more about the moral fury that has driven me into UKIP, I urge you to read my post "Matthew Parris' Poison" (especially the second half) at www.alansangle.com/?p=1531.
Also if you have any comments, favourable or otherwise, be free to email me. I'd love to hear from you.
Very warmly,
Alan