"It's all a bit dated," said my taxi companion, a member of the House of Lords with a long track record of public service. He and I had been at the Oxford Union debating the motion "This House believes the 21st century belongs to the East, not the West" (here). We were being taken to the up-market overnight accommodation provided by 'the world's most famous debating society'.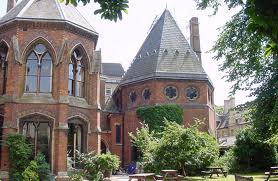 "We should have moved on from this old-fashioned adversarial style of argument to a more consensual approach," he said warming to his theme. "We should look for points of
agreement rather than difference."
I dared to differ, and said so. You don't have to be a fiery outside-the-walls Old Testament prophet to recognise how far UK public life has moved from a truth-based confidence to a grey ducks-in-line conformity. The priority for today's governing class is not to robustly deal with reality but to cautiously control relationships. Rocking the boat and frightening the horses have become crimes against the entrenched liberal status quo. Rather we must cover our eyes, block our ears and hold hands together while we dance round the maypole – preferably singing la-la-la from a politically-correct hymn sheet. After all, as one Roman politician famously said 2000 years ago, What is truth? He would have felt utterly at home in Westminster and Whitehall.
Fortunately Oxford Union Society knows no such toadying compliance. Founded nearly 200 years ago in a more vibrant age, debates in the Union chamber take place under the watchful eyes – by portrait or bust – of Oxford graduates and former prime ministers such as the Marquess of Salisbury, William Gladstone, Sir Alec Douglas-Home and Edward Heath. In 1933, the year Hitler came to power, the Union notoriously passed the motion "This House would under no circumstances fight for King and country". More recently it has listened by video link to the banned Islamic firebrand Zakir Naik, and its contentious invitation to Nick Griffin (here) preceded by two years the BNP leader's controversial appearance on BBC Question Time.
Our debate last week could only have taken place in secular materialist Europe that has blinded itself to spiritual realities. Speaker after speaker showed themselves dazzled by China's recent super-power appearance on the world stage and there was much debate about relative economic development, commercial growth and financial investment.
But I pointed out that the real undetected jaw-dropper is the recent phenomenal growth of Christianity in the country. While post-war Europe has said goodbye to God, the Chinese have said hello in exponentially increasing numbers. According to Professor Niall Ferguson, a century and a half of intense Christian missionary work had yielded just half a million Chinese believers by 1949. But he reckons the church today is growing so fast that within three decades some 20% to 30% of the Chinese population of over 1.3 billion will be Christian (here). There will be more Christians in China than the USA.
According to former editor of the Sunday Telegraph, Dominic Lawson, the Chinese Academy of Social Sciences has discovered what Europe has chosen to ignore (here).
"One of the things we were asked to look into was what accounted for the success, in fact the pre-eminence, of the West all over the world," said a senior member of the Beijing Academy. "We studied everything we could from the historical, political, economic, and cultural perspective. At first, we thought it was because you had more powerful guns than we had.
"Then we thought it was because you had the best political system. Next we focused on your economic system.
"But in the past twenty years, we have realised that the heart of your culture is your religion: Christianity. That is why the West is so powerful.
"The Christian moral foundation of social and cultural life was what made possible the emergence of capitalism and then the successful transition to democratic politics. We don't have any doubt about this."
As a result and despite persecuting the underground church, the atheist Chinese Communist government is pouring money into Catholic and Protestant seminaries and helping to fund state-sanctioned churches (here). The largest Bible printer in the world is based at Nanjing and produces over a million scriptures a month primarily for the Chinese church (here).
So while Christianity is and will increasingly bring life, vitality, human rights and democracy to China, godless Europe is declining into sterile risk-avoiding regulation-bound sclerotic gentility and is destined to become a sort of Isle of Wight to the world – a refined tourist resort, museum piece and history theme park, but irrelevant to the future of the globe. Tell it not in Gath, proclaim it not in the streets of Ashkelon: how secular Europe is fallen!
But I had good news for the bright young students of Oxford. The future belongs neither to the East nor the West but to them if they will grasp it. As it happens the University's own Latin motto tells of the one thing that is needful. It is the first line of Psalm 27: Dominus Illuminato Mea. The Lord is my light.
So as I closed the debate I urged them to listen to their University motto and choose the light. I was delighted this proffered choice received loud applause. There is hope for the younger generation, even in fading secularised Europe.
(This post also appeared as an article in last Friday's edition of The Church of England Newspaper.)