Last year I helped set up Christian Action in UKIP, aka 'CAUKIP', an informal group whose aim is both to promote UKIP to the churches across the UK and to promote mainstream Christian ideals within the party.
We held our first fringe meeting at the UKIP party conference last September. It was attended by Steve Woolfe MEP, the party spokesman on migration, and addressed by UK-based Nigerian Pastor Ade Omooba who talked for 30 minutes on "The Moral Argument for Controlling Immigration".
Interestingly, Pastor Ade quoted the New Testament (1 Corinthians 6: 9,10) to demonstrate that God Himself created immigration controls for the Kingdom of God, and that therefore we are free, responsibly, to control immigration into the United Kingdom.
UKIP listeners loved this application of Christian values to political policy, especially by a Black pastor from a Commonwealth country. Contra our sniffy metropolitan critics, UKIP doesn't do racism. It was a good meeting.
However, CAUKIP is closely associated with another informal but long-established group in the party, Christian Soldiers – UKIP, and we were concerned last month when a gay UKIP councillor based in Dudley & Halesowen, Shaun Keasey, called publicly for the party to cut all ties with Christian Soldiers. He was supported by UKIP MEP Bill Etheridge and on twitter by the official LGBT in UKIP group.
Cllr Keasey's argument simply reheated cold meat. He focussed on a leaflet promoted by Christian Soldiers at the party's Spring Conference a year ago as his reason for the ban. The leaflet had denounced attempts to create gender confusion and promote sexual-orientation discussion amongst primary school children, especially through a now-withdrawn LGBT programme called 'CHIPS'. Although the leaflet had used robust language, it was in line with UKIP's excellent and politically unique manifesto promise to ban all sex education in primary schools.
The Daily Mirror happily pursued its anti-UKIP agenda by manipulating the story and creating a fuss. The party was forced to handle this and, light of foot, it smartly insisted the Christian Soldiers leaflet should be withdrawn. As a result the issue was reduced to a storm in a tea cup, and was dead and buried within 12 hours.
And so it stayed for almost 12 months, until Shaun Keasey decided to resurrect it four weeks ago.
Fortunately the party is growing canny. This time around it did absolutely nothing. Cllr Keasey's call to ban Christian Soldiers was flatly ignored and the group continues to be free to hold its regular stall and promote its Christian literature at the UKIP Spring conference this coming weekend. As they say in church: Alleluia!
Then, at a party hustings three weeks ago I was selected as UKIP candidate for the London South West constituency in the London Assembly elections on 5th May. The only other applicant at the hustings, gay activist Richard Hendron, immediately and loudly resigned from the party publicly accusing me of being a "vile, nasty homophobic individual".
Pink News and the Daily Mirror rapidly crawled all over the story claiming that I support 'gay cure' amongst other things (I don't, of course), and LGBT in UKIP activist Richard Hilton put up a public change.org petition to have me removed from UKIP's approved candidates list.
36 hours later and unknown to me, a party member in the North put up a counter-petition, "Say NO to political correctness infiltrating UKIP", asking the party not to remove me as a candidate because of my "traditional Christian views".
Regrettably, the party's deputy chairman Suzanne Evans – who has since been relieved of her job – weighed in against me too. She tweeted that my views have no place in UKIP, declared openly that the party's selection process had failed and wrote to the party chairman requesting that my selection should be reviewed. She gave Pink News an exclusive telling them she was confident I would be removed.
For a few days it was The Battle of the Petitions but, as news website Breitbart pointed out, the LGBT in UKIP petition was soon seen to have "backfired" as it was rapidly overhauled by the counter-petition. As I write, the second petition has more than 13 times the signatures of the first.
I became aware too of growing grassroots support as people told me they had called and emailed party officers asking that I should remain a UKIP candidate.
Finally, I was invited to appear before a panel of senior party officers to discuss my views about 'gay cure' and related issues. The meeting was confidential, but I was informed the next day that the panel had decided unanimously that I should continue as an approved candidate for UKIP – a decision then ratified by the party chairman and the National Executive Committee.
So in my experience UKIP is maturing into an excellent anti-establishment party. As you see, with a few exceptions it is fair, robust, hard-working, committed to free speech and democracy and stands firmly against the suffocating tenets of political correctness.
Unlike the old parties, there is ample room for social conservatives, grassroots Christians and supporters of family values.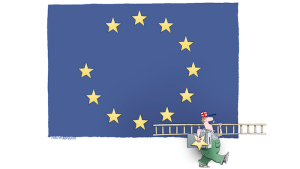 If that's you, and you urgently want the UK out of the EU on 23rd June, join us now. There are only 16 weeks to get our country back from the dead hand of the Brussels bureaucrats.